EDinburgh, 5th DECEMBER 2022
New Offshore Windfarm Proposals Welcomed at Community Events
Scroll Down
The first round of community consultations for the Caledonia Offshore Wind Farm (OWF), a proposed 2GW project in the Moray Firth, have been positively received and extended to add in another event in Banff at the request of the local community.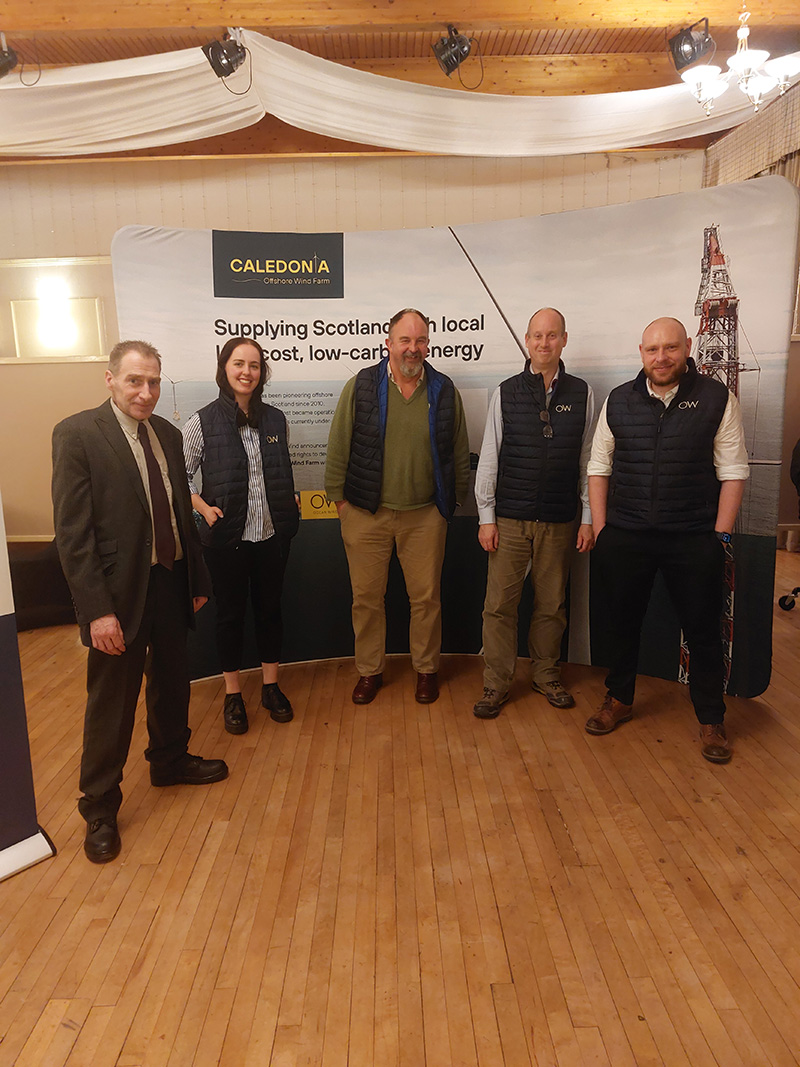 Three events took place at the start of November in Wick, Buckie and Fraserburgh to consult on the project's Offshore Scoping Report which drew members of the public from across the Moray Firth interested in finding out more and sharing their thoughts on the development.
An additional event will now take place in the Moray Lounge of the Banff Springs Hotel on Thursday 2 February from 11am to 7pm.
The offshore scoping report, which was submitted to Marine Scotland in October, outlines the technologies under consideration for the project. It also covers the work that will be undertaken for the Environmental Impact Assessment to support the planning application due to be submitted in 2024.
Once fully commissioned – expected in 2030 – Caledonia will double the Moray Firth's ability to supply low-cost, low-carbon electricity – with expected capacity meeting the average electricity needs of around two million homes.
---
Caledonia Project Director Mark Baxter commented:
"As the first in a series of consultation events for Caledonia OWF, it was great to see such an appetite for and positivity around the project."
"Over the course of the three days we spoke to more than 100 people, who were keen to hear more about the proposed development, and the opportunities arising throughout development."
"We also had some extremely productive discussion with the local fishing community at all three events. Feedback was provided in relation to the project generally in addition to specific feedback in relation to the offshore export cable route. This information is invaluable as we continue to progress and refine our design plans."
The proposed wind farm sits adjacent to Ocean Winds' Moray East, which came online in 2020, and Moray West, which is currently under construction and is due to be operational by early 2025.
Mark continued: "Having seen the benefits Ocean Winds' neighbouring developments, Moray East, and Moray West, have brought to local communities over the last ten years, there is a real interest in seeing that pipeline extend into the next decade. Caledonia OWF provides the work to do this while addressing national skills needs and domestic energy security and supply."
---
Some notable feedback points from those attending the events include:
Attendees were keen to understand the nature and timescale of the economic opportunities which would become available with the project
Local businesses were interested in how they could become involved as suppliers
For those who were unable to attend the consultation events in person, the public exhibitions have been replicated as an "online village hall" styled virtual engagement platform which can be accessed here: https://caledonia.virtual-engage.com/ and are open until the end of February 2023.
Following this first round of consultation events, the project team is undertaking a wide range of surveys, before moving on to compile an Environmental Impact Assessment Report. Information about further consultation events will be released in due course.
ENDS
---
Notes to Editors
For media enquiries please contact Craig Milroy, Communications Manager on Craig.Milroy@oceanwinds.com or 07584 608842
Scoping Report available at:
www.caledoniaoffshorewind.com/the-project/public-engagement
---
About Caledonia Offshore Windfarm
Operational in 2030, the 2GW Caledonia development will mark two decades of continuous investment by Ocean Winds in the Moray Firth, providing opportunities for local growth.
With expected capacity of 2GW, Caledonia is expected to double the capacity of the Moray Firth and will be capable of supplying around two million homes with green, low-cost electricity.
The site was award to Ocean Winds under the Scottish Government's ScotWind process and will join Moray East and Moray West as the company's third offshore wind farm in the UK.
Site area 429km2
Water depths: 40 – 100m
Expected capacity – 2GW
Expected to commence generation – 2030
---
About Ocean Winds
Oceans Wind (OW) is an international company dedicated to offshore wind energy and created as a 50-50 joint venture, owned by EDP Renewables and ENGIE. Based on our belief that offshore wind energy is an essential part of the global energy transition, we develop, finance, build and operate offshore wind farm projects all around the world.
When EDPR and ENGIE combined their offshore wind assets and project pipeline to create OW in 2019, the company had a total of 1.5 GW under construction and 4.0 GW under development. OW has been adding rapidly to that portfolio and is now on a trajectory to reach the 2025 target of 5 to 7 GW of projects in operation, or construction, and 5 to 10 GW under advanced development. In 2022, OW's offshore wind gross capacity already reaches 14.6 GW.
OW, headquartered in Madrid, is currently present in 8 countries, and primarily targets markets in Europe, the United-States and selected parts of Asia, from where most of the growth is expected to come.