28th November
Meet Andrew Hamilton – Offshore Development Manager
Scroll Down
When he's not climbing hills, attending gigs or chasing after his 15-month-old daughter Mirren, Andrew Hamilton spends his time leading the offshore consents activity for the Caledonia Offshore Wind Farm.
We caught up with Andrew, to hear about his role as Offshore Development Manager, his route into offshore wind, and his insights on the key challenges faced by the burgeoning industry.
How did you decide a career in offshore wind was right for you?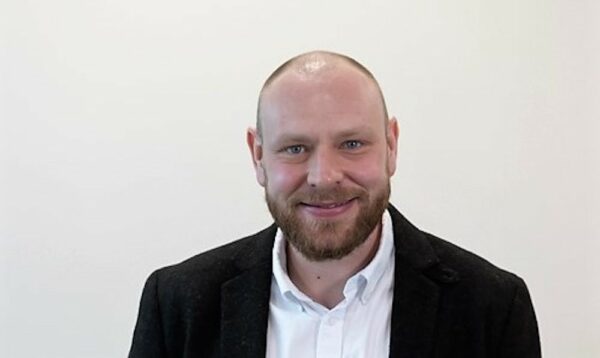 When I was younger, I had no idea what career path I wanted to pursue. Like many other kids, my first goal was to become a professional footballer but as the years passed, I realised this wasn't going to be possible. When I wasn't playing football, I enjoyed camping, hiking and being part of the Scouts, as it allowed me to explore my love of nature.
In high school, I took a particular interest in geography which led me to study the subject at University of Glasgow. I then went on to complete a Master's in Environmental Studies, still unsure of what route I wanted to take. By luck, a graduate opportunity arose with a renewable energy developer and I haven't looked back since.
---
Tell us about your career so far.
I joined Ocean Winds in 2011 as part of the team developing Moray East Offshore Wind Farm. After also working a brief spell on their Moray West development, I decided I wanted to expand my knowledge. So, in early 2017, I made the move to an environmental consultancy where I worked on wider renewable projects, grid infrastructure, port upgrades and marine cabling.
But with the offshore wind industry poised for significant growth with planned leasing across the UK, I returned to Ocean Winds in 2018. I'm proud to work for an industry, and company, that continues to play its role in tackling climate change.
After ten years working in offshore wind, I've discovered a new passion for marine biology. Studying Scotland's unique marine ecosystem means I learn something new every day.
---
What do you enjoy most about your current role?
As Offshore Development Manager, I lead the offshore consenting activities for the Caledonia Offshore Wind Farm. This involves managing Environmental Impact Assessment (EIA) activities, marine licensing, stakeholder engagement, and the day-to-day project consenting strategy.
In an industry that's constantly changing, there's never a dull day at the office. The biggest highlight so far was the announcement we'd successfully secured the rights to develop the project. After three years of site selection and bid preparation for ScotWind, it was great to see all our hard work pay off.
As a company, we're delighted to have a pipeline of projects in Scotland, a part of the world we know very well. I'm looking forward to another tour of the Moray Firth coastline to meet locals and share our exciting plans.
---
Share a key lesson you've learned working in offshore wind.
Through my consenting work, I've realised how important it is to engage on project plans as early and widely as possible. Key stakeholders range from other sea users, conservation bodies, regulators, coastal communities, local supply chain, the list goes on. It's vital we listen to their views to ensure our projects are delivered sustainably, while maximising opportunities for local businesses and communities. We've been successful in our engagement for Moray East and Moray West, and it's our aim to continue this approach for Caledonia.
---
What do you think are the key challenges for the industry?
The sheer scale of the global offshore wind industry is incredible. In Scotland, it will play a vital role in tackling climate change and ensuring we meet our net zero targets. But with this scale comes challenges. From a consenting perspective, ensuring we can deliver projects quickly, while minimising the impact on the environment and other sea users is crucial. To achieve this, we'll need developers and government to collaborate to create a strategic approach to offshore wind deployment in the UK and globally.
---
What advice would you give someone considering a career in offshore wind?
The offshore wind industry is growing at an unprecedented rate. There are so many exciting roles available, whether that's working for a developer like Ocean Winds, in a consultancy providing specialist services, or as a regulator ensuring projects are delivered as sustainably as possible.
If you're not sure where to begin, internships are a great way to discover what aspect of the industry suits you best. Keep an eye out for career events to find out more about the opportunities available.
I'd highly recommend a career in offshore wind. We need passionate, enthusiastic individuals at all levels to ensure our national targets are met on time.
Find out more about a career with the Caledonia Offshore Wind Farm: https://bit.ly/3UPQGP0