1 August 2023
Exploring the Moray Firth: What we found during Caledonia's site surveys
Scroll Down
It's amazing what you learn working on the development of an offshore wind farm, and the knowledge is often more diverse than you'd expect!
It's amazing what you learn working on the development of an offshore wind farm, and the knowledge is often more diverse than you'd expect!
One such insight came after the survey vessel covered a charted shipwreck 43 km off the Caithness coast in the Moray Firth. The wreck was the remains of HMS Lynx, an Acasta-class destroyer built for the Royal Navy in the First World War.
The project team came across the wreckage during its geophysical survey campaign, which gathered crucial subsurface data to provide an in-depth picture of the site to aid development.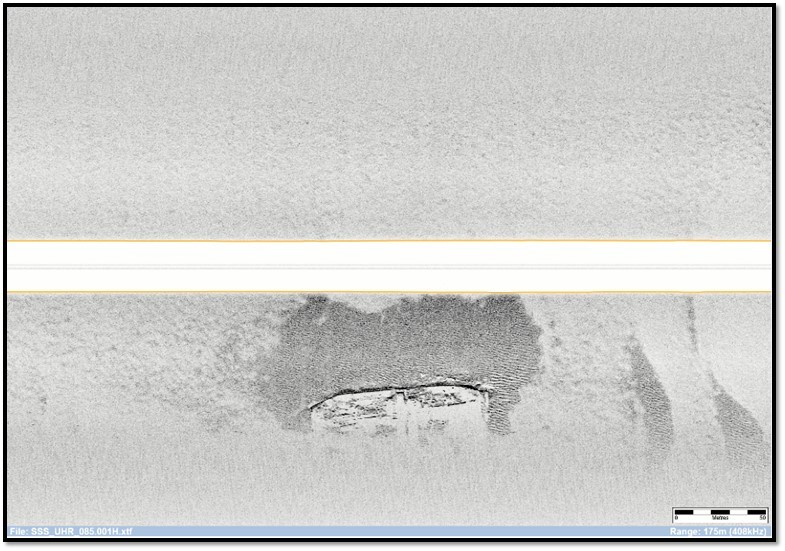 Interested in the story behind the wreckage, we did some research to find out more about the life of the ship…
Ordered under the 1911-1912 Naval Programme, HMS Lynx was built on the River Clyde in Govan by the London and Glasgow Shipbuilding Company. After being commanded by Commander Reginald St Pierre Parry as part of the response to the German bombardment of Scarborough, HMS Lynx set sail from Cromarty on 15 December 1914.
The following day, a German destroyer was spotted and a brief battle entailed, resulting in Lynx being struck several times by German shells. After sustaining minor damage and flooding, the ship's steering gear jammed, ending the day's pursuit.
Eight months later, on 9 August 1915, Lynx struck a mine – planted off the Moray Firth, by German raider, Meteor, which laid 400 mines across the Moray Firth – and sank. Sadly, seventy crew were lost, including the captain. The four officers and twenty-two crew that survived were rescued by the Italian steamship, Vulcano. Information on the crew onboard can be found, here.
The wreck of HMS Lynx was found during a survey in 1991 and was first dived in 2000. When initially explored, little was recognisable about the wreck, apart from four 12-foot diameter cylindrical structures that have since been identified as the distinctive Admiralty 3 drum boilers of the Acasta class of destroyers, confirming the wreck was part of HMS Lynx.
So, how does this impact Caledonia?
As well as providing the team with an interesting history lesson, the wreckage also informs plans for the wind farm.
Before construction can begin, it is important to know which areas of the site need to be avoided.
Parts of the seabed that include points of interest such as old anchors or shipwrecks, need to be considered when determining where turbine foundations will be plotted and where underground cables between the turbines, offshore substations and the landfall site will be routed.
Once identified, a security radius (also known as an Archaeological Exclusion Zone) can be set to so that these areas remain undisturbed during the construction and operation of the wind farm, making sure that important moments of history like this are preserved.